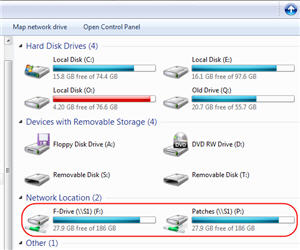 When the data you need to backup resides on a Windows server or a NAS that you access with a mapped drive, then you need an online backup service that supports network drives.
There are a number of great online backup services out there but not only do they not all backup network drives, some make it difficult to find out if they do or not.
Here at OnlineBackupSpot.com, our goal is to simplify the process of picking the perfect online backup service for your needs. We do the digging so you can pick one and move on with more important things to do.
If the data is on a Windows server, some software gives you the option of installing the online backup program on the server, but there maybe times you do not want to do that or cannot.
When it comes to Network Attached Storage, installing software on the NAS is typically not allowed; though some NAS's do have online backup built-in to their own service.
So here are some vendors we have reviewed whose software does backup network drives.
Online Backup For Network Drives
When it comes to online backup, most people do not want to spend more money than they have to. Therefore this first list is going to be of consumer grade online backup services that support network drives.
After all, it should go without saying that a business grade online backup would support network or mapped drives; though even that is not a safe bet. Some "business" plans merely allow for multiple online backup users to be aggregated into one account either to take advantage of pooled storage and/or convenient management.
IDrive – IDrive is one of our favorite online backup services and the fact that they do support network drives is only one reason. No upcharge.
Zoolz – Zoolz is a newer entry but has become very popular very quickly; probably because of its ease of use
LiveDrive – LiveDrive supports a NAS or other network storage location but it doubles your monthly cost as there is a $7.95 upcharge per month. The unlimited backup offered by LiveDrive may come in handy, though, if you have lots of data on that NAS.
Not too many to choose from, huh?
Step Up To Business Online Backup
As mentioned above, it is unfortunately not a given that a business plan online backup service will support network drives.
So here are some of vendors whose business plan does:
IBackup – IBackup is the true business version of IDrive, and thus we love the product.
Zoolz Business – Zoolz is a top quality, newer server online backup service using Amazon's excellent cloud storage service.
One difference that you will typically find in a business online backup is that you can install it on a Microsoft Server and often get open/locked file support during the backup.
So if you want to backup data on a mapped drive from a NAS or Windows server, choose one of the online backup services above that support network drives.