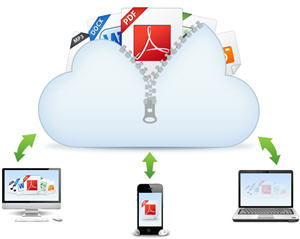 ZipCloud Online Backup is a new entry into the market by a company that is not new to online backup. Their mission is pretty basic; give you the service you need at a price you can afford.
The unlimited online backup is really unlimited online storage, the differences we have written about here, so you can store files not on your PC or retrieve a file you deleted a long time ago.
One thing you will find is that the website is not exactly "filled out". Looks good, but many details are just not there.
While that could be because they simply want to appeal to the non-techie consumer who just wants online backup to be simple it could also be that they just haven't gotten around to it.
One of the key issues for us is that they are VERY responsive to our inquiries so we should be able to get our questions answered quickly for our upcoming review.
Based on what we know about them so far I can safely say that they WILL be on our recommended list.
In the meantime, let's look at ZipCloud's key points:
Make online backup simple to use
Make backup automatic
Remove worries about quota since they offer unlimited online backup
Keep the price low, affordable and attractive
They want your business, cancel anytime, 30 day money back guarantee
If you want safe, secure, simple online backup with no quotas and a low, affordable price, then why not sign up for a no obligation free trial account at ZipCloud right now?