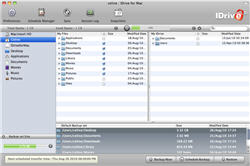 Start Your IDrive Free Trial
'Spot' Rating:

IDrive Fast Facts
Windows, Servers, Mac, 64bit support
Scheduled and Continuous Backup
Free IDrive Express hard drive transfer
True Online Storage, not just Backup
Variety of Plans, as low as $49.50/year for 1 PC
1 PC, 5 PC's (Family), or Unlimited (Business)
Anywhere Web Access, Mobile Apps
Synchronize Files (Separate Service)

IDrive Online Backup Is Nearly The Perfect Solution
The more we use and learn about IDrive Online Backup, the more we like it. In fact, the only reason we do not rate it at 5 stars is because of the lack of synchronization. Currently, if you want to synchronize files between computers or mobile devices you need the "add-on" IDriveSync program.
While we love not paying for what we do not use, having a separate service could confuse some customers. If sync'ing is really what you are after, SugarSync may be a better option, although if you have lots of data, IDrive may be cheaper.
Not Just Online Backup, Online Storage
You will find us writing about the difference between online backup and online storage everywhere we get the chance. IDrive, with the noted exception of the IDrive Unlimited plan (may not be available currently, was never really advertised), will not delete you files just because you deleted them from your computer.
While this can become a problem over time and LOTS of activity in that it will use up your quota, we personally have experienced situations where someone discovers a missing file from their computer long after most online backup services would have deleted it; usually 30 days.
IDrive Is Fast!
IDrive has been in the business for over 10 years and over that time have built their entire network specifically for the purpose of storing data for people like you and me. It is optimized for receiving our data and replicating it across their 4 data centers.
You will notice with IDrive that you have the option to limit bandwidth to prevent having a sluggish computer during backup, limit bandwidth to keep web surfing fast during bandwidth and STILL get fast upload speeds to their servers. This, in fact, was one of the first things we noticed during our testing.
Flexible Online Backup Plans
With IDrive online backup the plans offered are varied enough that most people should find a good fit. All plans offer a nice discount if you pay for the entire year instead of by the month.
Personal Plans, for 1 PC, allow 150GB storage.
Family Plans, for up to 5 PC's, allow a whopping 500GB storage!
Business Plans, for any number of PC's, start at 50GB. Businesses, though, may prefer IBackup the "big brother" of IDrive.
IDrive Unlimited, with unlimited online data backup (not storage) for 1 computer, is similar to the Personal Plan but has several restrictions. See website for details.
Support For External Hard Drives, Mapped Network Drives
Unlike many other popular online backup services, IDrive supports both external hard drives and mapped network drives. Adding these drives is a simple process, just choose the drive letter in the desktop application.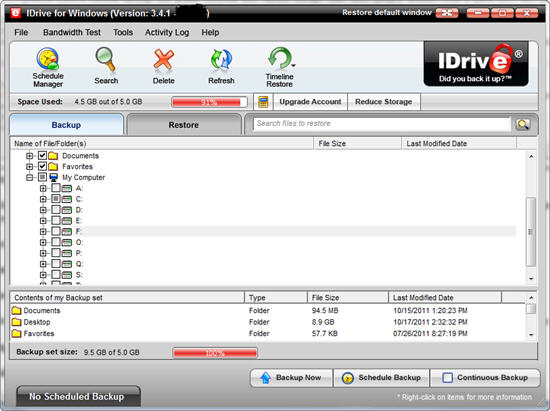 This is the kind of flexibility we like in a product; the more we get to do what we want, the way we want it, the happier we are. After all, we are paying for so much space – it shouldn't matter where we get the data to put there.
IDrive Express – Physical Hard Drive Initial Transfer – FREE!
One of the biggest hassles to overcome when first starting your cloud storage account is getting all of your data backed up to the cloud the first time.
It takes a long time
It eats up your bandwidth, for days maybe even weeks, slowing other internet uses
It leaves some of your files at risk for that whole time
IDrive now provides IDrive Express, a hard drive delivered to you that you backup your data onto for the initial backup. Your data is encrypted so it's safe and secure when it's shipped to IDrive's server center – at their expense! Up to 1 TERABYTE (1000 Gigabytes).
This free service is available to IDrive Pro users free, once per year or, for business accounts, three times per year. You can also use your free service for data retrieval (over the allotted times per year it's a cost of $59.95.
Many other online backup services either do not offer this service at all, charge for it (more than $59.95, too) or in some cases do not offer as large of a drive.
Types of Backup
IDrive is flexible in the types and details of the online backup process:
Scheduled Backups, only 1 schedule allowed
Manual Backups, execute the scheduled backup or an individual file via the Windows Explorer integration – just right click a file
Continuous Backup, optional, excludes files 500GB or above in size. Unlike Mozy's "near continuous" backup, IDrive is almost instant
Open File Backup Support (works only on local files, not mapped network drives)
Locked File Backup Support
Mobile Access
IDrive has apps for Apple and Android but for now they are limited to accessing files; download to your device, then open if supported on the mobile device.
While this is a lower level of mobile support than some other services, the apps are improving all the time.
Firewall Ports
One thing that is a bit different about IDrive that could be a stumbling block for a few users is that if you are behind a managed firewall you will need to have some ports opened.
Two sets of firewall ports need to be open for IDrive to communicate with the cloud servers: 11900-11990 and 11700 (I believe they used to use 11610-11670 instead of 11700)
Security
IDrive encrypts data before leaving your computer with AES-256 encryption. The key used is the user's choice:
IDrive provided key (default)
User provided private key
The advantage to a user provided key is that you know NO ONE can decrypt your files except you (and probably a few government agencies if they really want to); no one at IDrive can access your data.
At the same time, if you lose the private key that you have chosen, your backups are worthless.
If you need to reset your encryption key, the account needs to be deleted and create a new one. That can be a big deal if you have a lot of data uploaded that would take a long time to re-upload or if using the "storage" feature whereby the data no longer resides on your computer(s).
Our suggestion is that if you choose your own key (and even if you don't), upload a few files and then do a test restore to make sure that you have the proper login, password and optionally, user key.
Restoring Data
Having all of your data backed up online is of no value if you can't get it back when you need it.
With IDrive, there are several ways of restoring a file:
IDrive Desktop Application
IDrive Explorer
Web browser (will require private user key if you chose that option for your data)
IDrive Portable – If you need a lot of data, you can purchase the IDrive Portable for $69.95 and they will send you a 350GB external 2.5″ hard drive with your data on it (provided it fits on 350GB)
Support
Toll Free Support (M-F, 6am – 6pm PT)
Online Chat
Email
Web Request
Conclusion
Unless Synchronization of PC's and mobile devices is high on your list, IDrive Online Backup has more of the features that ordinary computer users and even demanding ones want to see in an online backup service.
IDrive is inexpensive, it's FAST, and they will let you store files not on your computer. It is compatible with Windows workstations and servers, 32 and 64 bit, even Mac. On servers, IDrive runs "as a service" which is highly preferable, in fact, we consider it a must.
You can try IDrive for free, no credit card required, keep a 5GB free account forever.