Know What IDrive Allows For Your Private Key (& More)
One of the benefits to IDrive online backup service over their competitors is the option for a private encryption key that only you know. That means they can't give it to you if you lose it, but it also means they cannot access your data or turn over unencrypted data to anyone else for any purpose.
In order to use a private encryption key over the default key, though, you have to specify that when you create the account.
Since these cloud backup services are changing (hopefully improving) all the time we often setup new test accounts. And since IDrive just made some changes for the better recently, and they have been our top pick for online backup, we figured it a good time to do it again.
When you sign up for a free IDrive account (5GB forever, they'll add 0.5GB just for installing the desktop app and a paid account is easy and inexpensive to upgrade to) they give you some helpful hints on what they are looking for in a username and password.
Note: You won't see the username prompt unless you have already used your email address for another IDrive account; they'll use your email as your account username, but you can change your email address at any time.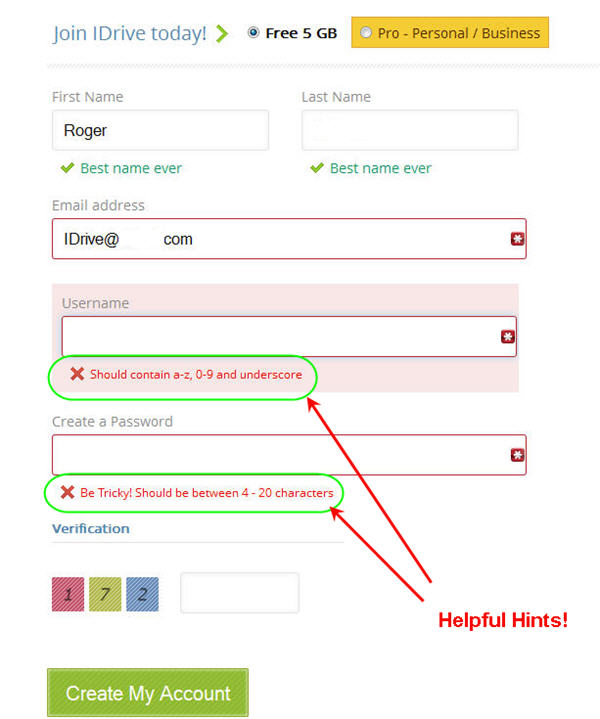 So as you can see from the larger image at right, IDrive will tell you what you do wrong if they don't like something about your username and password.
Unfortunately, when you go to select your private encryption key, that's not the case.
Unless, of course, they have taken my advice after both an online chat and a phone call with them yesterday and added the helpful text.
Why You Want A Private Encryption Key With IDrive
Just because someone creating an IDrive online backup account wants a private encryption key doesn't mean they are doing anything illegal, immoral or otherwise attracting the attention of the NSA.
Face it, getting their attention only requires you to be a U.S. citizen and I'm not sure you even have to be living and breathing!
The problem is that we have all heard too many stories of companies screwing up, some rogue employee selling some data, or the ubiquitous "stolen laptop" with unencrypted data on it that had no business leaving the office anyway.
The reason you want a private encryption key with IDrive can be simply because you are prudent and cautious.
Why not?
The Downside To A Private Encryption Key At IDrive
There are two small downsides to a private encryption key on your data in the cloud with IDrive:
You lose the key, the data's unusable. Only a problem when you go to restore, one reason we suggest TESTING a restore often. Keep the key in a free Password Safe or free cloud based utility like LastPass.
Sharing of files and folders with others is not possible if you use the private encryption key with your IDrive account. Well, if it's data you don't want anyone else to have access to then maybe you won't be sharing much?
The Secret To Creating A Private Encryption Key
The thing they don't (currently) tell you at IDrive when setting up your private encryption key is that, while there apparently is no length limit on the key, SPACES ARE NOT ALLOWED!
Not only is there no helpful hint to tell you that, but if you include a space, like with a pass "phrase" you might be inclined to use, the error message will indicate that a private encryption key "cannot be set" on your account when it should just say "no spaces allowed".
Summary
IDrive online backup re-cemented its place as our #1 pick for cloud backup with its recent upgrades; and we do like (and use) the private encryption key option. Just know what is allowed, make sure you can type it on a mobile device if you use those apps and remember that you must decide when you create the account if you want to use the private key option – and there is no going back.
Pick up a free, forever 5GB (5.5GB if you use the desktop app) account at IDrive, knowing you can easily upgrade if you need more space at VERY reasonable prices.