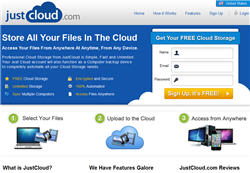 Start Your JustCloud Free Trial
'Spot' Rating:

JustCloud Fast Facts:
Windows, Mac, Linux
Unlimited Cloud Storage Space Available
Unlimited Computers (Licensed individually)
Mobile Apps
Sync Files Between Licensed Computers
Share Files & Folders
Anywhere Access
Toll Free 24/7 Support

Getting Started
JustCloud online backup is a very easy to use, automatic method of computer backup that does not require lots of user expertise. Beginners find it intuitive to use and those with experience appreciate a simple to use application that does not require constant attention.
JustCloud exceeds the plans by many other vendors by giving you unlimited cloud storage for one low fee. You do not need to pick and choose what you will backup or leave unprotected for fear of going over your quota like with other merchants plans. And JustCloud uses 256 bit Encryption to protect your privacy.
Desktop Application
The JustCloud desktop application is brand new, so it's not outdated. They now include progress bars to help users visually when backing up files. One bar is for individual files and one is for the total amount being uploaded. This helps make JustCloud perfect for the beginner to cloud storage.
Within the application are options to allow all files types to be uploaded, as well as setting the file size limit to unlimited, unlike a lot of services on the market, JustCloud is fast and efficient, meaning large files take minutes and not hours to secure.
The platform and behind the scenes hardware at JustCloud is state of the art design with industry experts running it to make sure your cloud storage experience is uneventful.
Sync Features
Unlike a lot of Backup rich products on the market JustCloud also offers substantial sync features, allowing files to be transferred securely between multiple devices at no extra cost.
Using a simple Drag and drop method, it really is child's play to move a film, picture or music from your pc to say an internet TV or mobile device, or another laptop or computer.
Using the same encryption security, JustCloud also offers private folder sharing, allowing users to securely pass files to friends across multiple platforms at no further cost to the user.
Other Benefits
After using the system for a while now, it seems that JustCloud is a lot more feature rich than at first glance, compared to some of the older cloud backup options on the market.
As well as offering Private File sharing, drag and drop technology and sync options, JustCloud also offers file versioning and mobile access. In the rare case that anyone does not approve of the service after trying it, an anytime money back guarantee is promised.
When you compare that to the main players in the market, it is clear to see why JustCloud ranks so highly is so popular – especially among people with large amounts of data to protect.
With a MAC & Linux version, public folder sharing and a locate lost or stolen computer option, JustCloud continues to blow other backup options out of the water.
Restore
With JustCloud restoring files can be achieved either through the app, through a 2 step process, or by selecting the files to restore directly from the online account.
Allowing this flexibility, JustCloud ensures that no matter where you are, or where you want to download your files to, you are able to do so effortlessly.
Mobile Access
JustCloud currently has a fully accessible mobile site, which can be found via all types of mobile device, with new apps for even the Kindle Fire.
The Mobile site is easy to use and easy to follow, even for the somewhat computer illiterate user.
Support
JustCloud offers 24/7 live person support (and it's not in India). It is easy to contact and communicate with them and easy to understand, stepping away from technical jargon, although it's hard enough to not follow the simple steps to get started, we found support easy to follow and understand.
Email support is also offered and effective.
JustCloud also offers online tutorials and FAQ's for users to find the most common answers, to the most common questions, but chances are that you will just download, install and use.
Find out how easy it is to get started and get protected with JustCloud right now!