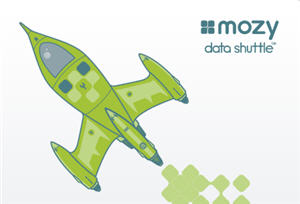 Mozy Pro Online Backup offers a Data Shuttle program so that your initial backup can be transferred to Mozy's servers quickly and without tying up precious bandwidth over an extended period of time.
One of the primary hurdles to online backup for many businesses is the size of the initial backup and getting that data quickly uploaded.
With a terabyte of data not being all that uncommon anymore most businesses would prefer a quick, painless way to get the first backup done.
Mozy Pro's Data Shuttle service offers a USB 2.0 1.8TB external hard drive that is encrypted and utilizes overnight shipping to speed the process.
Amazingly, your incremental backups can even start right away, too, before Mozy receives the shuttle drive back. Now THAT's data protection!
Online Backup Data Protection With Mozy Pro
Mozy Pro online backup service knows you want your data guarded against theft or tampering.
The software will encrypt your initial backup using either the Mozy default key or a personal key – your choice. MozyPro will then generate a second encryption key and encrypt your data a second time before transferring any data to the USB Data Shuttle. The second key is transmitted to a central repository via SSL and is destroyed after the data is successfully stored in the Mozy cloud data center.
Your data is ALWAYS stored in encrypted format.
Mozy Data Shuttle Pricing
The cost of the Mozy Data Shuttle is based on the size of the initial (seed) backup on a per machine basis, and works with Mozy Pro only (not Mozy Home).
| Size of Server Seed | Cost |
| --- | --- |
| 1.8TB – 1 Data Shuttle | $275 |
| 3.6TB – 2 Data Shuttles | $375 |
| 5.4TB – 3 Data Shuttles | $475 |
| 7.2TB – 4 Data Shuttles | $575 |
So if your business has a large amount of data and you want a premium business online backup solution with a fast initial backup, then checkout Mozy Pro online backup, now with the option of Data Shuttle to get you protected without delay or inconvenience.