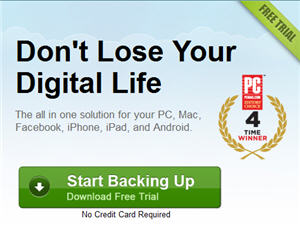 SOS Online Backup has just received PC Magazine Editor's Choice award for online backup for the 4th time.
It is no wonder why as SOS has just added even more services like the ability to backup your Facebook account; no one else is currently offering that that we know of.
They have been a leader in this business for a long time and do not rest on their laurels.
When it comes to ticking the boxes, SOS covers most of the bases, too. They do NOT offer unlimited cloud storage but there are a lot of other features that few others match.
Let's take a look at a few of the things we really like about SOS Online Backup:
PC and Mac support
Unlimited versioning and archiving means they never delete a file even if you accidentally do (others keep them only 30 days)
Up to 5 computers on a single account; great for families
Mobile Apps for iPhone, iPad and Android
Facebook backup
iPhone & iPad backup
Stronger encryption than most anyone else
Local backup
Backup network (mapped) drives like your home NAS
Restore several ways, including a "Timeline" restore
SOS Online Backup has been around for quite a long time and have impressed the marketplace by their continued improvement and innovation. Whether you are looking for personal online backup or business data protection, there is a plan to take care of you.
They offer a free trial so you can find out if they are the right fit for protecting your data, and there is NO credit card required to get that free trial account.